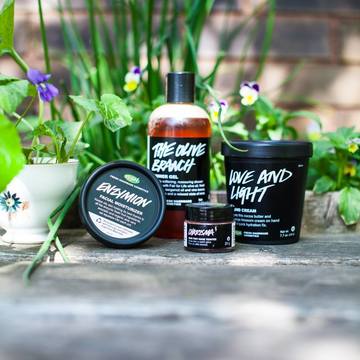 A selection of all-natural, Canadian-made beauty products from LUSH, including Enzymion Moisturizer, The Olive Branch Shower Gel, and Love And Light Hand Cream. Retail value $70. PICKUP ONLY.
Signed Copy Flatbreads & Flavors by Naomi Duguid
Ships Worldwide
As they have pursued their passions for travel and exploring culture through food, Jeffrey Alford and Naomi Duguid have found an internationally shared and nourishing element of culture and cuisine: flatbreads, humankind's simplest, oldest, and most remarkably varied form of bread. In their James Beard Award-winning cookbook Flatbreads and Flavors Alford and Duguid share more than sixty recipes for flatbreads of every origin and descriptio. In addition, they provide 150 recipes for traditional accompaniments to the flatbreads, from chutneys and curries, salsas and stews, to such delectable pairings as Chinese Spicy Cumin Kebabs wrapped in Uighur nan or Lentils with Garlic, Onion, and Tomato spooned onto chapatti. Redolent with the tastes and aromas of the world's hearths, Flatbreads and Flavors maps a course through cultures old and intriguing, and, with clear and patient recipes, makes accessible to the novice and experienced baker alike the simple and satisfying bread baker's art.
More
Less
Signed Copy of Burma by Naomi Duguid
Ships Worldwide
Naomi Duguid's heralded cookbooks have always transcended the category to become "something larger and more important" (Los Angeles Times). Each in its own way is "a breakthrough book . . . a major contribution" (The New York Times). And as Burma opens up after a half century of seclusion, who better than Duguid―the esteemed author of Hot Sour Salty Sweet―to introduce the country and its food and flavors to the West. The best way to learn about an unfamiliar culture is through its food, and in Burma: Rivers of Flavor, readers will be transfixed by the splendors of an ancient and wonderful country, untouched by the outside world for generations, whose simple recipes delight and satisfy and whose people are among the most gracious on earth.
More
Less
Signed Copy of Levant by Anissa Helou
Ships Worldwide
Anissa Helou's Levant is a collection of mouth-watering recipes inspired by Anissa's family and childhood in Beirut and Syria, and her travels around the exciting regions of the eastern Mediterranean and the Middle East. Levant, or rising of the sun, is the crossroads where western Asia, eastern Mediterranean and northwest Africa meet. A land that is culturally diverse but united by common culinary threads. In this personal tour Anissa introduces the stunning food of Syria, Lebanon, Turkey, Iran, Palestine and Jordan. She draws them together through the themes of family, farm, souks (markets), restaurants, bakeries and the sweetmakers and attempts to record the food traditions of countries that are changing beyond recognition and at risk of disappearing. Levant includes 150 inspired recipes for soups and sides, salads and mezze, meats, fish and vegetarian, sweets, preserves and breads.
More
Less
Signed Copy of Seductions of Rice by Naomi Duguid
Ships Worldwide
With a depth of passion and experience, and an ability to embrace and convey richness of place and taste, the authors of the groundbreaking Flatbreads and Flavors and the later award-winning Hot Sour Salty Sweet embarked on a far-reaching excursion to find the world's most essential and satisfying food. Along the way, they experienced firsthand dozens of varieties of rice, offering unimaginable subtleties of taste, as well as a staggering array of foods to accompany them, all providing a simple way to get flavor and variety on the table. Seductions of Rice is the glorious result: two hundred easy-to-prepare dishes from the world's great rice cuisines, illuminated by stories, insights, and more than two hundred photographs of people, places, and wonderful food. Seductions of Rice will change the way we eat, the way we prepare and appreciate our food. It's as easy as putting a pot of rice on to cook!
More
Less
Here's the campaign
$27,849 raised
395 contributors
Transforming a simple idea — inviting Syrian refugee women to cook in our kitchen — into an exciting new pop-up food concept that turns newcomer talent into delicious food, income and a model that could work with any group, in any kitchen, in any city.
Delete media item?
Delete this item from the media gallery? It will also be deleted from any related story update.
Set as ?
The campaign video will appear in social media and email.
The campaign cover picture will appear in social media and email.
The will appear at the top of your campaign page and in social media and email.
Reset ?
It won't be used as default in social media and email. The will remain in the media gallery.
It will be removed from the top of your campaign and won't be used as default in social media and email. The will remain in the media gallery.
Delete update
Delete this story update?
Any pictures or videos will remain in the campaign's media gallery.