Help Us Save These Kitties
Extended time!
Our deadline has passed but you can still help.
×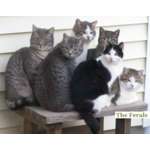 It all started in July when we rescued Merlin....a stray kitten with an extremely deep puncture wound between his shoulder blades....five vet visits later, two of them ER visits, it was determined that a flea treatment caused his wound.  For the ...
More ...