African Cultural Guides Association (ACGA)
Organization
atlanta,

GA, United States
Website
1
campaign
8
contributions received
$525
raised
Member since June 2020
Delete media item?
Delete this item from the media gallery? It will also be deleted from any related story update.
Set as ?
The campaign video will appear in social media and email.
The campaign cover picture will appear in social media and email.
The will appear at the top of your campaign page and in social media and email.
Delete update
Delete this story update?
Any pictures or videos will remain in the campaign's media gallery.
Post your like
Post your like on Facebook.
The Vision
The ACGA aims to unite, support, and grow a diverse network of cultural guides, skilled laborers, and artisans in Africa who promote African cultural traditions and heritage.
The ACGA aims to expand Africa's tourism industry by developing globally aware and technologically innovative cultural guides, skilled laborers, and artisans in African and equipping them with the resources needed to enhance the competitiveness and sustainability of the continent's tourism destinations.
  ACGA: Supporting Advocates of African Culture  [through the COVID-19 pandemic and beyond!)
The Mission
To raise the standard of living of cultural guides, skilled laborers, and artisans in Africa with programs that directly meet their socio-economic needs.
To catalog, assess, and develop the skills and talents of the cultural guides, skilled laborers, and artisans in Africa, thereby creating a database that captures their diverse contribution to the tourism industry.
To accelerate the digital transformation of the skills and talents of African cultural guides, skilled laborers, and artisans and connect them to a global audience.
To promote intra-continental and cross-continental collaborations between international organizations and cultural guides, skilled laborers, and artisans in Africa.
This work advances two of the  United Nations Sustainable Development goals for 2030: to create decent work and economic growth (#8 ) and to reduce inequalities (#10).
Membership Criteria
Must be an individual or a small African-owned organization that is based on the continent of Africa or employs Africans on the continent.
Must directly provide cultural tour guide services or a cultural service or product that is marketed to tourists.
Must submit signed ACGA membership application and membership agreement form.
Membership Benefits
Receive financial support in the wake of environmental, political, or health crisis that significantly disrupt the tourism industry in their region, to the extent that members are unable to conduct business.
Gain access to ACGA's online market to sell goods and services.
Gain free/discounted access to training in the areas of intercultural, business, financial, and marketing skills development offered in the ACGA certification program.
Receive hands-on and financial assistance to be more environmentally sustainable and to digitize aspects of member's operation, in order to increase global accessibility.

Want to help ACGA by becoming a partner or have questions? Email us at africanculturalguides@gmail.com
ACGA extends partnership opportunities to any and all tour operators and large businesses or platforms who promote African culture/heritage or tourism to the continent.
Organization activity
Nothing to show yet.
Organization campaigns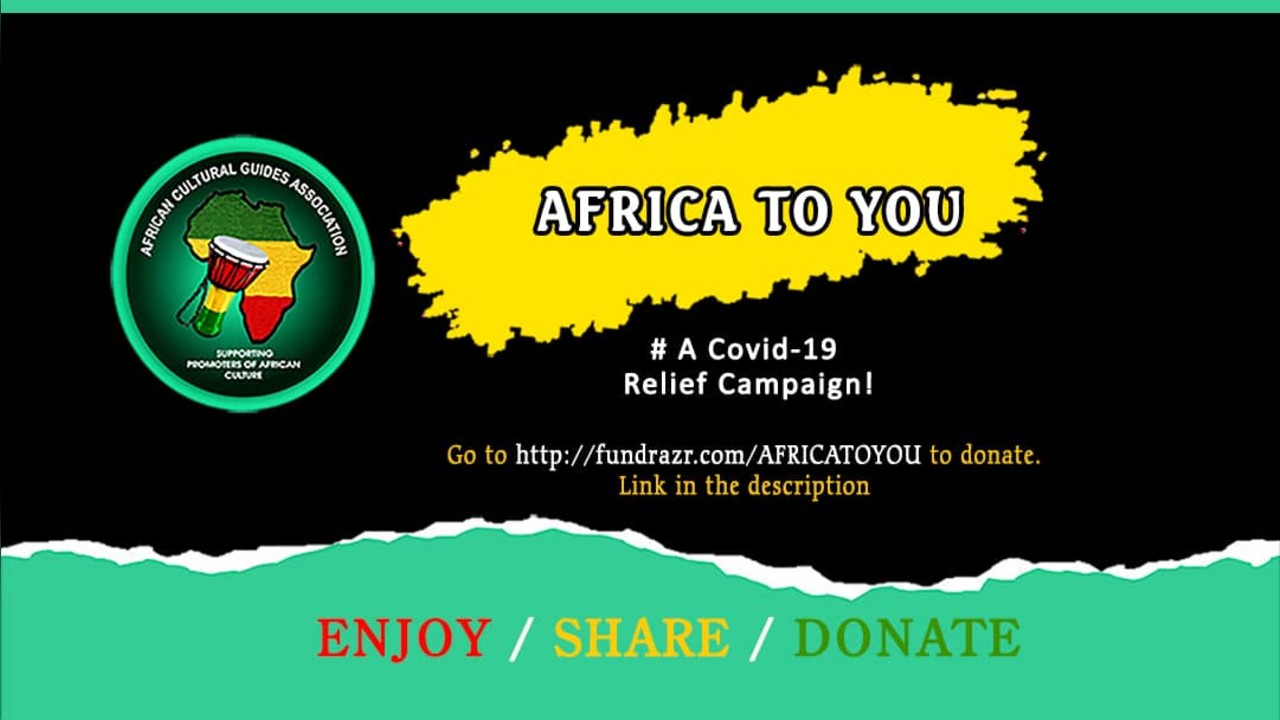 Donate to ACGA to support the cultural custodians of African tourism! This group of cultural guides and artisans are BRINGING AFRICA TO YOU, through their knowledge, passion and labor. Covid-19 has halted tourism but we can still stay connected.
$525
raised of $25k goal
84 Weeks running
Profile privacy settings
Public profiles are indexed by Google and other search engines.

Show the number of campaigns run, contributions received, total raised, and date the organization started with FundRazr.
Show a chronological feed of contributions, campaigns milestones, etc.
Stats and activity can only be shown when the profile is public.
It might take up to 3 minutes until changes appear for visitors.