Halifax - Hercules engine run team member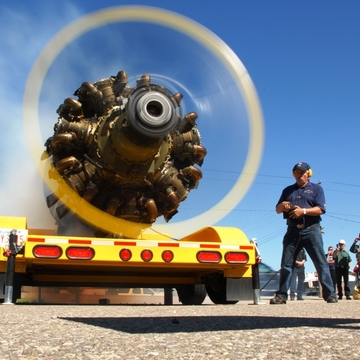 By your donation, you can become one of a very select few Halifax Project supporters and fans with the opportunity to start and help run our Bristol Hercules engine on site at the Bomber Command Museum of Canada in Nanton, Alberta during engine runs events! You will be given a full safety briefing and operational procedure instructions so that, under supervision, you will be able to start and participate in a Hercules engine run with our "Halifax crew" team. A great opportunity to be part of the 3-man team that runs the historic Hercules radial engine that powered the famous Halifax, Stirling, and Wellington bombers of WW2!
Book - "Canadian Pathfinder" by Ken Cothliff
"CANADIAN PATHFINDER - The Life of a Canadian Bomber Ace" by Kenneth B. Cothliff It has been over 75 years since the end of WW2 and the story of one of Canada's greatest RCAF bomber pilots and leaders, REG LANE DSO DFC and Bar CMM CD, can now be told. Through this very unique book, exclusively offered in Canada by Halifax 57 Rescue, finally we can share the amazing story of Reginald John Lane who did 64 combat trips, with 2 full tours on Halifaxes!! This most special book by UK author Ken Cothliff ( who lost his own father Bill in Halifax bomber combat with RCAF 425 Squadron) explains in great detail in 156 pages the entire brilliant career of Reg Lane in the RCAF and RAF, including the postwar RCAF. An excellent read with great details of Reg's 1942 to 1944 bomber combat (2 tours) when hardly any bomber crews were finishing 1 combat tour, the author is to be commended for his exhaustive research due in the main to the great cooperation of the Reg Lane family. regards H57RC
More
Less
RCAF 6 Bomber Group Crest
Commemorative crest of the original RCAF 6 Group crest designed at 6 Group headquarters in 1943-1944. Found recently in the RCAF archives of RCAF 6 Group from over 75 years ago, this crest was used by RCAF Headquarters in England with the symbolic image of the Canadian Maple Leaf superimposed on the Yorkshire White Rose with the RCAF 6 Bomber Group number in the center. A true but totally forgotten symbol of our RCAF bomber boys, resurrected by HALIFAX 57 RESCUE, as a tribute to the RCAF and Bomber Command's contribution to Allied Victory in WW2.
More
Less
Handley Page Halifax - the complete history
A newly published book (188 pages) on all aspects of the design, history, and combat career of the Halifax bomber, the "jack-of-all-trades" bomber of the RCAF and RAF in Bomber Command. Included is information and great photos on all the survivor Halifaxes in existence and their restorations. This book is straight from the publisher Haynes to Halifax 57 Rescue who contributed to the making of this excellent historical and technical book on the Halifax.
More
Less
Halifax Pilot Control-Wheel Replica
H57RC has produced, from an original wartime Pilot's Halifax control wheel in our collection, finely detailed and exact copies of the Halifax pilot control wheel which we offer here for the first time to our members and donors! Complete down to the pilot brake control handles (moveable) in the center of the control wheel, these never-before-offered control wheels, made from heavy resin, are so detailed that even the factory part serial numbers from the original can be seen clearly on these replica gems. Do not miss out on acquiring one of these replicas by donating $400. or more to our Halifax Project! This offering is unique in the Halifax and WW2 bomber aviation world.
More
Less
"Invincible Item" Halifax print, signed by (11) Halifax aircrew and the artist. (DFC) means awarded the Distinguished Flying Cross for excellence in combat operations (POW) - shot down and Prisoner of War This print is (24 in. X 36 in.) or ( 60 cm. X 92 cm.) Oliver Rheaume - rear gunner - Ottawa, Ontario Ted Turner - rear gunner - Campbell River, B.C. Lloyd Patten DFC - pilot - Fort Saskatchewan, Alberta Gordon Ford - wireless operator - Stratford, Ontario Peter Provias - navigator- Oakville, Ontario Albert McMullen - mid-upper gunner - POW - Red Deer, Alberta Russell Earl DFC - pilot - Estevan, Saskatchewan Jack Dundas DFC - pilot - Ridgeville, Ontario Barney Ririe DFC - wireless operator - Magrath, Alberta Michael McCabe - artist - Moncton, New Brunswick - cousin W.D. Walsh KIA in a Halifax of RCAF 408 Sqn. Keith Rupert - wireless operator - Ottawa, Ontario Michael Guthman DFC - mid-upper gunner - Vancouver, B.C.
More
Less
Here's the campaign that needs your help
$134,413 raised
544 contributors
7 years running
Halifax 57 Rescue is an aircraft recovery group that is planning to recover RCAF Halifax HR871, with our partners Swedish Coast and Sea Center and Havsresan of Sweden, from the Baltic Sea for the Bomber Command Museum of Canada in Nanton, Alberta.
Delete media item?
Delete this item from the media gallery? It will also be deleted from any related story update.
Set as ?
The campaign video will appear in social media and email.
The campaign cover picture will appear in social media and email.
The will appear at the top of your campaign page and in social media and email.
Reset ?
It won't be used as default in social media and email. The will remain in the media gallery.
It will be removed from the top of your campaign and won't be used as default in social media and email. The will remain in the media gallery.
Delete update
Delete this story update?
Any pictures or videos will remain in the campaign's media gallery.