1000 offerings Vijaya Puja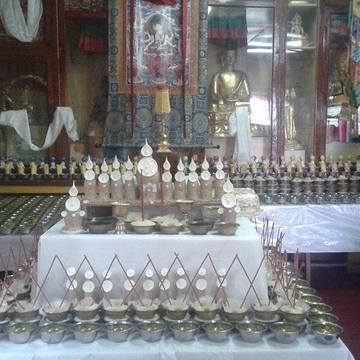 This puja is for long life. The instructions were given by Buddha directly to Gajin (which means king of gods, Indra in Sanskrit). Here is the story of this puja:
A youth named Lotyo Tenpa became seriously ill and is certain that his next rebirth will be in a lower realm, perhaps in the animal realm, so he feels very afraid and runs to Indra with his worries. Indra advises that him there is only one who can protect him from his problems and that one is Buddha. So Indra reassures Lotyo Tenpa and says "I will ask Buddha for help". Indra goes to Buddha and tells him the details of youth's illness and worries. Buddha, out of his great kindness, teaches Indra the Vijaya mantra (Om Drum Soha Om Amirta Ayu Dati Soha) and gives instructions to do this puja. With only days left to live, Lotyo Tenpa takes Indra's advice and and performs this puja. He becomes free of all of his suffering and illness and goes on to have a very long life!
Here's the campaign that needs your help
$20,513 raised
261 contributors
6 years running
To assist this precious monastery's mission completing the new prayer hall that will accommodate their growing monastic community as well as help support both young and senior monks.
Delete media item?
Delete this item from the media gallery? It will also be deleted from any related story update.
Set as ?
The campaign video will appear in social media and email.
The campaign cover picture will appear in social media and email.
The will appear at the top of your campaign page and in social media and email.
Delete update
Delete this story update?
Any pictures or videos will remain in the campaign's media gallery.
Post your like
Post your like on Facebook.