2015 Rainy Season Retreat Pujas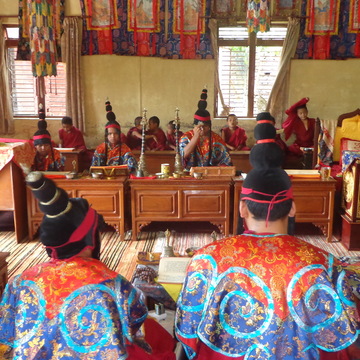 We will preform many Pujas throughout this month. Puja is a Sanskrit word meaning offering or service. The earliest Buddhist pujas consisted of placing flowers, lights and incense in front of a symbol or image of the Buddha. The value of the practice is that it grows out of and reinforces faith and devotion which are considered positive emotions able to motivate and enhance one's practice of the Dharma. In Mahayana, pujas are often long and elaborate. Tantrayana has a wide variety of very elaborate pujas, some meant to be expressions of devotion others to induce wealth, long life, world peace, help from the gods and also spiritual qualities. These pujas are preformed on behalf of all living beings and for peace in this world. The merit of contributing to the offerings to these pujas is immeasurable.
Here's the campaign that needs your help
$20,513 raised
261 contributors
6 years running
To assist this precious monastery's mission completing the new prayer hall that will accommodate their growing monastic community as well as help support both young and senior monks.
Delete media item?
Delete this item from the media gallery? It will also be deleted from any related story update.
Set as ?
The campaign video will appear in social media and email.
The campaign cover picture will appear in social media and email.
The will appear at the top of your campaign page and in social media and email.
Delete update
Delete this story update?
Any pictures or videos will remain in the campaign's media gallery.
Post your like
Post your like on Facebook.