New Bricks For Monastery Repair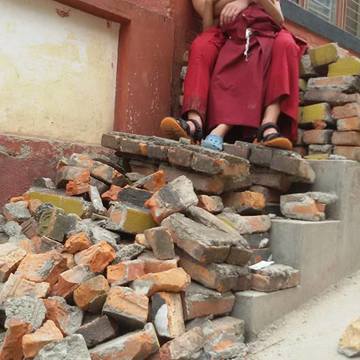 The new Prayer Hall construction activity remains safe from damage, but is temporarily on hold as we focus on repairing the monastery itself, build a classroom, and help the community the best that we can. A little can go a long way in Nepal. One dollar literally will buy 10 bricks. This is also a precious opportunity. IT is said if you contribute to building a
monastery or temple the merit remains for as long as the monastery or temple exists. A $5 or $10 dollar donation can purchase 50 or 100 bricks. In addition to the merit accumulated in helping to restore this monastery if you do this for yourself, if this is
a gift you are sharing dharma and this precious opportunity to connect with the monastery, which will remain in this life and all of your future lives. If this is to be a gift donation (of any size) please give us the name, email, and any personal message you would like to add in a message with your donation.
Here's the campaign that needs your help
$20,513 raised
261 contributors
6 years running
To assist this precious monastery's mission completing the new prayer hall that will accommodate their growing monastic community as well as help support both young and senior monks.
Delete media item?
Delete this item from the media gallery? It will also be deleted from any related story update.
Set as ?
The campaign video will appear in social media and email.
The campaign cover picture will appear in social media and email.
The will appear at the top of your campaign page and in social media and email.
Delete update
Delete this story update?
Any pictures or videos will remain in the campaign's media gallery.
Post your like
Post your like on Facebook.