Stand Up For Gus - The Voice of the Child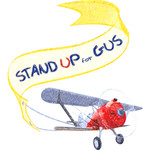 Donate to HELP bring CHANGE and LOVE to a Child's life. STAND UP with Jason Patric, Brad Pitt, Matt Damon, Robin Wright, Mark Wahlberg, Chris Rock, Jim Gaffigan, Chris Evans, Kiefer Sutherland and Whoopi Goldberg. Together we will END Parental Alienation.
More ...
People just like you
People just like you have raised $88+ million for causes they and their friends care about.
Start your own campaign