Keep Warriors Of Metal Fest Alive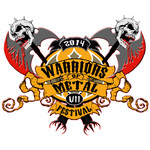 For the past 3 years, Datis and Lea Alaee have been dedicated to the Warriors of Metal Festival in central Ohio and established Warriors of Metal Inc., an OH-registered nonprofit organization. Now they need your help with funding the 2014 fest.
More ...
People just like you
People just like you have raised $88+ million for causes they and their friends care about.
Start your own campaign