Please help with veterinary expenses!
Extended time!
Our deadline has passed but you can still help.
×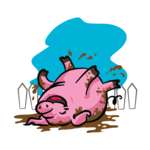 It's almost time for our annual check-ups! The animals at Sloppy Seconds, Inc. will need exams and vaccinations this fall, and we would really appreciate your support to help cover costs. We keep our animals well fed and cared for properly, ...
More ...