Night Night Monster: Birthday Fundraiser for 501c3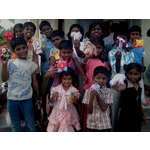 Dear Friends and Family,

You probably know me. My name is Delia and I'm founder and president of the nonprofit organization, Night Night Monster. We make dolls for children locally and abroad who suffer from severe nightmares and night terrors ...
More ...