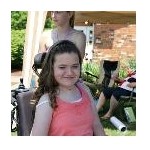 Recently, 15-year-old quadriplegic, Grace Meek, underwent surgery in her journey for independence. Please help us raise money for the Meek family with your tax deductible donation.

Grace's entire journey: http://www.caringbridge.org/v...
More ...
People just like you
People just like you have raised $88+ million for causes they and their friends care about.
Start your own campaign