bamBOO's Medical Fund - please help!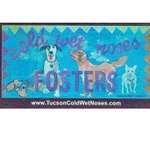 bamBOO is a 4 year old plain-Jane Tucson Brown Dog. While there's nothing particularly special about her on the outside, she has a heart of gold. And she needs our help.

Boo spent several weeks at Pima Animal Care Center after being surrendered ...