New Hope Cattle Dogs of AR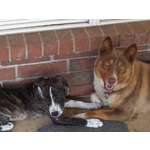 We Rescue, You Adopt, and You have a friend for life.
The average cost to Rescue, Rehab, Vet, spay or neuter these dogs is $130.00. The cost of their care for nutrition and hygiene can cost an additonal $5.00 for each day they are in the Shelter. ...