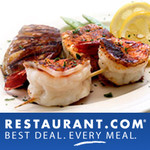 Restaurant.com has provided $1,750 in rewards to contributors. They'll reward you too!
More

Contribute $10 or more to this campaign and receive a matching value electronic gift card from Restaurant.com redeemable at over 22,000 restaurants. (US only). Help out your friend and treat yourself to a great meal at half price.
Troy's Journey Fundraiser
Our son Troy will require extensive therapy & also requires adaptive equipment such as wheelchair and stander etc. Troy will need longtime specialized care & assistance. All proceeds go towards medical fees, special formula, equipment, and therapy.
More