Verified organization
madrid,

M, Spain
Website
1
campaign
298
contributions received
€21,487
raised
Member since June 2018
Delete media item?
Delete this item from the media gallery? It will also be deleted from any related story update.
Set as ?
The campaign video will appear in social media and email.
The campaign cover picture will appear in social media and email.
The will appear at the top of your campaign page and in social media and email.
Reset ?
It won't be used as default in social media and email. The will remain in the media gallery.
It will be removed from the top of your campaign and won't be used as default in social media and email. The will remain in the media gallery.
Delete update
Delete this story update?
Any pictures or videos will remain in the campaign's media gallery.
En Fundación Theodora trabajamos desde hace 25 años para aliviar la estancia hospitalaria de niños, niñas y adolescentes… y la de sus familias. 

En Theodora creemos firmemente que todos los niños y adolescentes merecen tener una estancia lo más agradable posible, dentro de la situación que están viviendo, en los hospitales e instituciones especializadas. Nosotros trabajamos para desdramatizar, aliviar y conseguir que –durante ese tiempo- puedan volver a ser niños de nuevo, con lo que eso conlleva. 

Los Doctores Sonrisa de la Fundación Theodora son artistas profesionales de diferentes ámbitos (payasos, magos, cuentacuentos, músicos, actores…) que adaptan sus conocimientos artísticos al trabajo en los hospitales, con el objetivo de hacer esta estancia más humana, realizando visitas individualizadas en las habitaciones de los pequeños. 

Tras superar un riguroso proceso de selección -realizado en colaboración con algunos de los hospitales en los que trabajamos- nuestros Doctores Sonrisa están preparados para visitar a nuestros 'im-pacientes' y, a través de su presencia, abrir una ventana de aire fresco que cambie por completo la atmósfera de sus habitaciones. 

Cada año, más de 30.000 niños en España se benefician de las visitas de los Doctores Sonrisa: tú puedes ayudarnos a llevar muchas más sonrisas a los niños en las habitaciones de los hospitales, ¡colabora con tu aportación! https://es.theodora.org/
Organization activity
Nothing to show yet.
Organization campaigns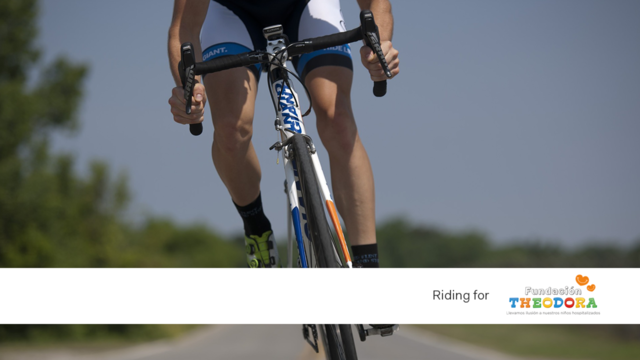 Como parte de la carrera ciclista C2C4C 2018 organizada por Bristol-Myers Squibb, el equipo español y portugués recaudarán fondos para la Fundación Theodora, miembro de la UICC, recorriendo 720 km por España y Portugal en tres días.
€21,487
raised so far
Finished January 16, 2019
Profile privacy settings
Public profiles are indexed by Google and other search engines.

Show the number of campaigns run, contributions received, total raised, and date the organization started with FundRazr.
Show a chronological feed of contributions, campaigns milestones, etc.
Stats and activity can only be shown when the profile is public.
It might take up to 3 minutes until changes appear for visitors.