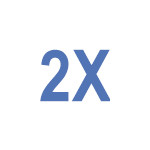 Campaign supported by Greg Hague
Greg Hague has already provided $100,000 in matching funds.
More
Greg Hague, founder of the StopZillow movement, is backing the project in a big way. He'll match any contribution to the campaign of $100 or more up to a total budget of $100,000! Make a big contribution and let Greg double the impact of your money.
BuyerHunt Revolutionizes Real Estate
We're launching the best, most advanced dual app technology in real estate to eliminate our profession's dependency on 3rd party websites like Zillow.