Tier 1- Free Stream Subscription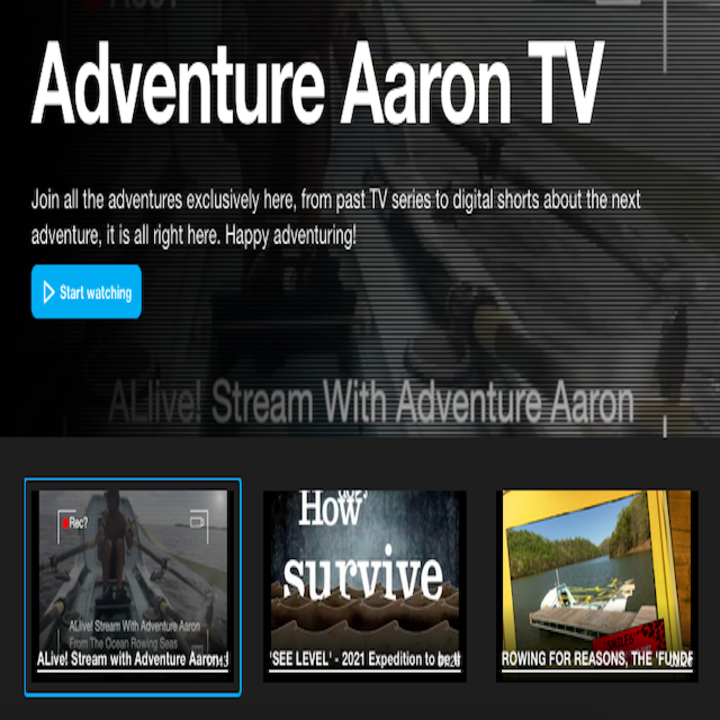 For being part of the team by donating, it would only be right if we offered you some free access with a subscription to watch the adventures by Aaron, stories of the unspoken heroes, and learn about other adventurers too. Starting around Sept 15, access to watch behind the scenes, actual live stream updates from Aaron in the field, and plenty of more exclusive videos from this adventure will be offered to all donors who contributed 35 dollars or more.. 'The Digital TV Network' will hold as the main platform while others may become available at things grow. No signups, no commitments, we will send you the promo code around the departure date and you in! All Streams will begin in the month of Sept.
Estimated delivery Sep 2021
SEE LEVEL, "Rowing My Boat" Glow in Dark Wristband
Ships Worldwide
Estimated delivery Sep 2021
GLOW in the dark too!!! Rowing day and night, remind yourself day and night, your rowing your own boat too. If you have ever heard the saying, Row Your Boat, most would agree this is a personal statement about doing what you have the ability to do and control in your own life. Special to Aaron's heart, "IT IS THE LIFELINE I STAND BEHIND"-the saying, just 'Rowing My Boat' explains anyone wearing it, uses the power and understanding you have to worry more about the things you can control in your life that indirectly allows others to "see level", while understanding we are all brothers and sisters. No pressure telling others what to do, respecting all other opinions, and leading truly by action, row row rowing your boat. I believe it's the movement that will inspire the world by empowering oneself. You can now get one of the official pending trademark items, officially here, sent by me personally to you. Thank you.
More ...
Less ...
Your Actual Signature Message on Smiles
Ships Worldwide
Estimated delivery Sep 2021
All of Tier 1 and 2 plus a spot on Smiles, with your signature and message of your choice. Signature and hand written messages are a way to feel ownership and part of something big. It is our honor to offer you that option and once signed up you can use the link included here, to send us the file via email, which will then be printed and permanently placed on the vessel for the journey seen by the world.
More ...
Less ...
Tier 4 - Join me on a month segment, in the boat!
Ships Worldwide
Estimated delivery Sep 2021
***Please note, this is a multi day and overnight actual physical activity. All of the above rewards are included, plus an actual segment along with me, in the boat. You will be part of the Official World Record Attempt, be featured in muli-documented videos, and put to the ultimate test, many will never get a chance to do. Did I mention you will be part of the offering the community the gratitude donors here contribute? Please message us prior to discuss availability of this reward and tax incentives offered directly to amounts of 5,000 or larger. This reward specifically benefits www.maps.org program abnd will be provided for portions of this donation
More ...
Less ...
Here's the campaign that needs your help
$3,250 raised
31 contributors
170 days running
Join us, as a tiny rowboat named 'Smiles', attempts to go around the world. Sharing live, factual stories many never hear, while feeding the hungry and rewarding the unsung heroes. Connecting the world, by seeing level, curing the failure to communicate.
Delete media item?
Delete this item from the media gallery? It will also be deleted from any related story update.
Set as ?
The campaign video will appear in social media and email.
The campaign cover picture will appear in social media and email.
The will appear at the top of your campaign page and in social media and email.
Delete update
Delete this story update?
Any pictures or videos will remain in the campaign's media gallery.
Post your like
Post your like on Facebook.