Fundraising for Water Girl
Campaign paused.
Sorry, we're not currently accepting contributions.
×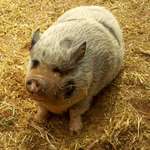 Water Girl was found abandoned in Maryland. She is no more than 3 months old. Local animal control held her hoping for an owner to come forward, but no one did. We took her into the sanctuary when "her time was up" and she was on the euthanasia ...
More ...