Geena's Pay It Foward Project - Beat Cancer!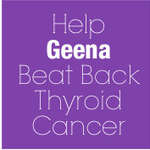 Do something GOOD today.

BE THE CHANGE YOU WISH TO SEE IN THE WORLD - GHANDI

There is lots of time left in 2013 to PAY IT FORWARD but isn't TODAY a great day to start with a random act of kindness for someone who really needs it? Sure, it's nice ...