Where Hope Lives Annual Appeal
Extended time!
Our deadline has passed but you can still help.
×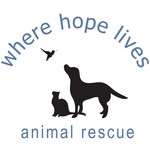 Where Hope Lives is a small rescue that relies on your donations and support to accomplish what we have.  After thousands of animals being saved and hundreds of community animals being spayed we are in need of your help once again. This is the ...
More ...