Help Us Feed the HSYC Pups & Kitties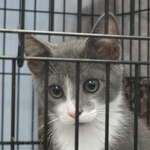 The Humane Society of York County spends over $2,000 a month on Purina Puppy chow, Dog Chow, Cat Chow & Kitten Chow. If you could donate $5.00, it would help more than you would know.
Do not want to donate $, we gladly welcome donations of the food ...