Support Queer Asian Leadership!
Campaign paused.
Sorry, we're not currently accepting contributions.
×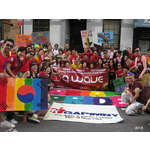 GAPIMNY is attending the 3rd National Queer Asian Pacific Islander Alliance (NQAPIA) conference in Washington, DC this July! And we need your help to get there.

Your money will help at least 10 members of GAPIMNY attend the conference to learn and ...
More ...