Bring Holiday cheer to dogs in need.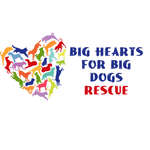 Our rescue's stocking is empty. Pease help us fill our stocking by making a donation of JUST $5 We have many wishes to grant. We have vet bills to pay, doggie food and preventatives to buy, oh MY!
Help Big Hearts for Big Dogs get through the ...