We need your help more than ever!
Finished!
Thank you everybody. Our campaign is now over.
×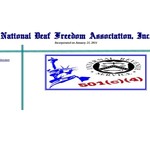 NDFA has succeeded with a recent Deaf Protest 2015. That was due to Charlton LaChase who made impassioned vlogs which drew nationwide Grassroots. The Team 7 made it possible to create a new Deaf Grassroots Movement with the goal of reaching 50 states.
More ...