Help feed Theo and friends this winter!
Finished!
Thank you everybody. Our campaign is now over.
×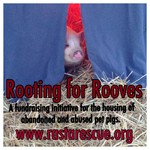 RASTA Sanctuary needs to purchase $5000 worth of hay and straw to last the long winter. Theo and all the animals depend on deep bedding in their barn stalls and shelters and good quality hay to keep their bodies healthy and ready to face the AB ...
More ...