UNITED IN PEACE INC "RAISING THE SLEEPING GIANT!"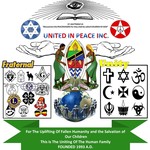 TO GOD BE THE GLORY! UNITED IN PEACE, INC. NEEDS (YOU)!
ONLY THE COMMUNITY WILL A&A THIS MOVEMENT TO SAVE OUR AT-RISK CHILDREN AND TURN THE TIDE ON SENSELESS SHOOTINGS AND KILLINGS THROUGHOUT THE COUNTRY.
WE NEED THE MERCY OF GOD AND YOUR GOOD HEART NOW!