Help Tuesday recover after severe chemical burns
Extended time!
Our deadline has passed but you can still help.
×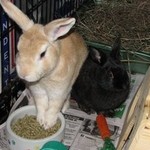 This is Tuesday the bunny who was caught in Danbury, Ct. She is a young female bunny who is bearing up wonderfully well under painful, frightening circumstances. It appears that Tuesday has multiple chemical burns all over the top of ...
More ...