I Would Hit That - Cinco de Mayo party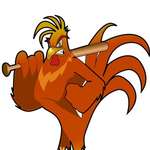 Pre-Sale Pitcher Beer $20 and $7 refills.
- You get 15 raffle tix. 1 raffle prize will be drawn on Cinco de Mayo, May 5th. for "Cocks Pay 50%" off a teams (Men or Women) entry fee towards Liberty Classic. Show up May 5th. Get additional 5 raffle tix.