Help Keep the Kitties Flea Free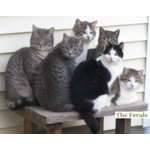 While Forgotten Felines of Maine is a TNR (Trap, Neuter, Return) organization we do have permanent residents in our care...feral and sometimes friendly cats who have no other place to call home.

Most of them have a sad story and nowhere to live. So ...