Rescue in need of help to continue to help!
Campaign paused.
Sorry, we're not currently accepting contributions.
×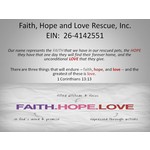 This rescue helps the 4 and 2 legged.  Our goal was to up and operating by June 1st.  Due to being misinformed by individuals we did not receive our business license until August 25th.  We were not allowed to advertise our cause until then.  Our ...
More ...