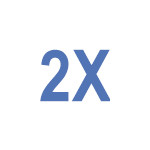 Campaign supported by Greg Hague
Greg Hague has already provided $95,665 in matching funds and will match your contribution too!
More
Greg Hague, founder of the StopZillow movement, is backing the project in a big way. He'll match any contribution to the campaign of $100 or more up to a total budget of $100,000! Make a big contribution and let Greg double the impact of your money.
Contribute now
We'll show the matching funds from Greg Hague before you pay.
New Technology Takes Buyers From Zillow
$
316,058
raised
Includes $95.7k in

matches

matched funds
29%

of $1.1M goal
We need a website that brings back our buyers and eliminates our dependency on third party middlemen like Zillow. That's what this project is designed to do.